Robotic Technology
I.o.T Solaris working with our R&D team in Palo Alto  to build robotic upgrade kits for construction equipment. We use off-the-shelf sensors and equipment, and write software to make the machines operate autonomously. We currently support dozers, excavators, and skid steers, with more equipment on the way.
Construction Safety
Construction technology is a the collective use of innovative tools, machinery, modifications, software, used during the construction phase of a project that enables advancement in field construction methods, including semi-automated and automated construction equipment.
Advanced Human Hazard Avoidance & Alert Systems
Technology In Construction Safety- AHHAAS
Human Machine Interface- sensor solutions are developed to reduce accidents between work crew & construction machines. Excavators, forklifts and cranes are just a few of the heavy-duty construction machines that need to work reliably in close proximity with construction crew .The most significant cause of collision accidents in work zones is the limited visibility or associated blind zone of heavy vehicles . Therefore, there should be an active proximity detection and warning system to ensure the safety of workers from collisions. The industrial sensors used on these types of construction vehicles must be mechanically and electrically robust, dependable, and precise. Our sensors offer life and reliability in the most abusive environments and provide much needed buffer between machine & man.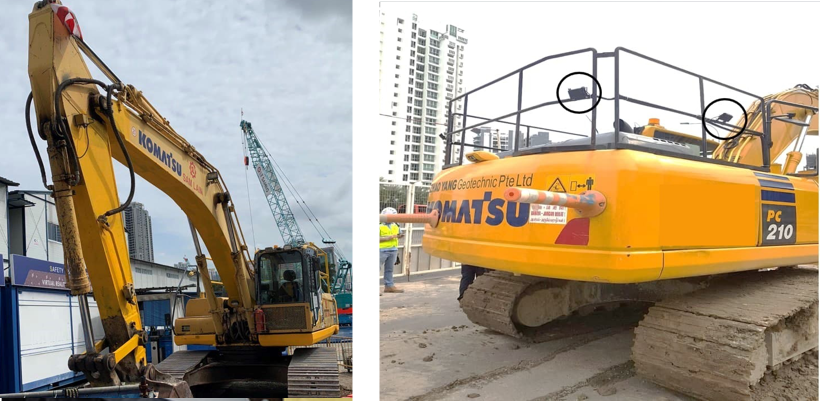 The incease volume of road works on arterial roads & highways , which include digging, resurfacing and tree management has increased the need for flaggers to manage the flow of traffic. Distracted & impatient driving heightens risk for flaggers. With the increasing levels of distracted drivers, safety of flaggers and workers in work zones is an increasing concern.Unfortunately, flagging personnel accidents and near misses continue to occur on highways.By removing workers from the traffic flow, the device could help reduce risk of injuries and fatalities to road construction workers to bring national attention to motorist and worker safety and mobility issues in work zones.
GAS MONITORING – CONFINES SPACES
Confined spaces pose serious, even deadly, safety issues for construction workers in tunnels & other small spaces . Portable gas detection is mandatory & regulated . IoT SPG sensors rugged design, ease of operation and ability to detect a wide range of gases brings a new level of safety to these workers. And because it's connected,& data is stored on our cloud based portal safety managers can access a wide range of useful data about alarm history, equipment safety and worker training through .Our system offers connected technology (WIFI), data collection(Cloud) & analytics (Portal)
RRC Radio Remote Controls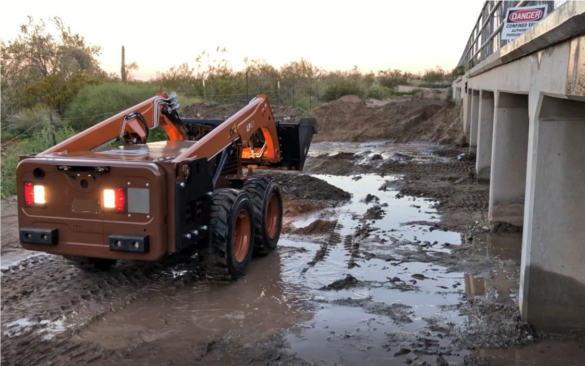 IOT S is expanding its automated heavy vehicle system by being one of the first companies to offer remote control options for construction heavy equipment.
We create innovative products that places the highest priority on safety while increasing efficiency operational efficiency. No matter what type, make, age, or model of machinery, can configure any equipment to operate remotely for surface operations.
ADAPTABILITY
Brand agnostic – any machine, make, or model.
Easily customized for specific applications in any industry
RELIABILITY
Brand agnostic – any machine, make, or model.
Fewer components means less down time.
Designed to survive in harsh environments
SAFETY
Operators maintain a safe distance
Unique link ID prevents controlling the wrong machine
Continuous signal check to switches and joysticks
TELEOPS – CONSTRUCTION EQUIPMENT
IoT S is working with its team in Paolo Alto to develop TeleOp allows the tele-remote operation of heavy machinery from a control station in a safe area on surface or underground, regardless of distance.
PRODUCTIVITY
Increased Profitability
Enhanced production
Improved work efficiency
Operation during shift change
User-friendly software
SAFETY
Reduced fuel consumption in transporting personnel
No exposure to dust, flying rock, diesel fumes, and noise
Sustainable parts in remote can be fixed
WORK / LIFE BALANCE
Operators removed from underground dangers
Minimized travel risks3.Traffic control
The construction industry is under a significant paradigm shift.Construction firms are begining to understand & appreciate the value of technology . IoTSolaris believes that that future growth of the construction industry is tied with rapid adoption of new technologies that will improve safety , increase productivity, attract modern manpower and change practices. The greater use of technology will also help to redefine the industry from current perception as being a dangerous ,difficult & dirty occupation.
Communication & Data Ecosystem
New technologies in construction are undergoing rapid developments; connected equipment and tools, telematics, mobile apps, autonomous heavy equipment, drones, robots, augmented and virtual reality, and 3D printed buildings are here and being deployed and used on jobsites across the world.